by Martin Wadhams
The RS Feva was unveiled to the public several months ago and production began in early January. According to LDC Racing Sailboats MD Martin Wadhams "all through development and then the launch of the Feva we were pretty confident about its potential – but even we have been taken by surprise. Sales are approaching 50% of our pretty punchy first year's target and it is only February 18th!"
Photo © RS Racing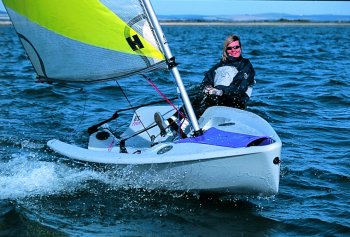 The RS Feva is a 3.64m (12 foot) sailing dinghy, built from highly durable Comptec PE3 polyethylene. Two versions of the boat, the Feva S and Feva XL use the same hull, spars and foils to provide a range of rig options, from mainsail only to main, jib and gennaker. Retail prices range from £2250 to £2995 inc VAT.
This versatility means the Feva is a great choice for private customers (both for recreational sailing and racing), sailing clubs, sailing schools and holiday companies. Mark Warner holidays currently hold the record for the biggest single order!
Undoubtedly one of the most popular aspects of the Feva will be as a racing class for young sailors or parent and child teams. The Feva has been adopted into the very strong RS Class Association and a racing circuit for 2003 is currently being finalised. A feature of many of the racing events will be coaching as part of the programme. In addition, there will be a Feva class start at selected RYA Zone Youth Championships.
The Feva is also gathering pace internationally. Within the last week or two Fevas have been despatched to Ireland, Holland, Greece, Spain and Japan, with many other orders scheduled. Dealers are already in place in a number of countries and LDC are looking for partners to help distribute the Feva in new markets. Anyone out there interested in becoming involved with this exciting new boat should contact LDC Racing Sailboats.