The Irish RS fleet is scheduled to have their final event of the year 23/24 Sept in Killaloe SC, Co. Clare. In 2022, they debuted their brand new clubhouse and it was an event to remember!
Boats are expected to travel from all parts of the country for the RS200/400 Inlands with boats coming from the North – Luke McIlwaine/Ryan Wilson (leading Travellers series) – among the favourites in the 400 and the Hills in 200. From the East coast Blessington and Greystones SC bring good numbers. In the West, Galway and Callaun bring boats to compete with the biggest fleet (12 boats) coming from Killaloe including 2022 RS400 Inland Champion Govan Berridge/Dave Coleman in their shiny brand new boat.
Entries for the event are still open for anyone wishing to go and join the 33 boats fleet. There will be food served up Sat night by a professional chef (but needs booked beforehand).
NOR, Entry Page, SIs, accommodation/camping info and Whatsapp Group all listed on information page: www.killaloesailingclub.com/sailing/rs-inlands-2023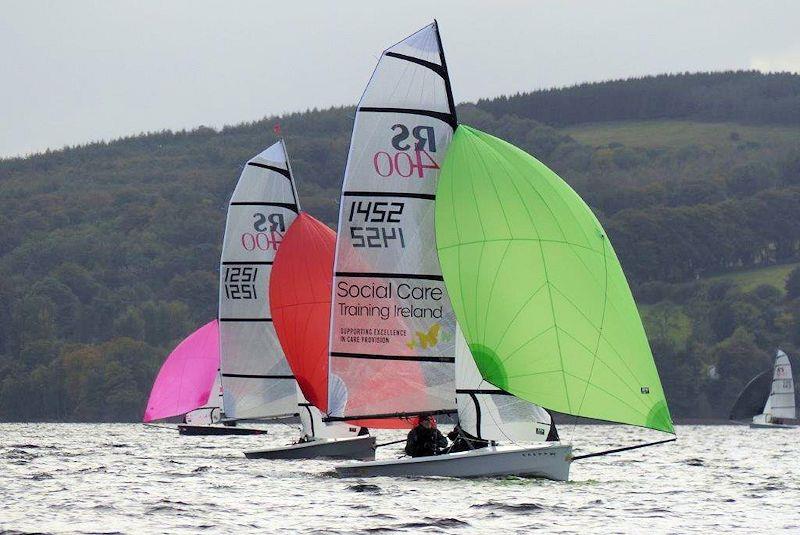 Irish RS400 Inland Championships at Killaloe in 2022 – photo © KSC
If you cannot make this event but interested to join the best fun class on the island there is a new class website www.rsireland.com for more information.
Already confirmed for 2024 are a few major events:
RS400 UK Nationals 19-23 Aug in Royal Torbay YC
Also then in 2025 the RS400 UK nationals come round to Holywood, Co. Down. Big plans & big fleets expected the first week of August in RNIYC!
The Irish RS AGM is to be scheduled middle of October and will decide Irish events for 2024 so more to follow… an exciting couple of years ahead!